No need to spend hours searching the internet for this year's best gifts for your loved ones! I have rounded up the best deals for Black Friday and Cyber Monday in my ultimate gluten free and wellness gift guide. You will not want to miss some of these unbelievable sales on your favorite gluten free products and some of my other favorite holiday gifts.
The Gift Guide For the Gluten Free Foodie:
Gluten free food delivery services
Meal delivery services are the perfect gift for those who might want a little break from food prep or are wanting to start the new year with a healthy, pre-planned weekly meal kit.
Splendid Spoon
The biggest sale of the season–$100 off your first four Splendid Spoon deliveries. Splendid Spoon has premade smoothies, bowls, wellness shots, and now, noodle dishes!
Freshly – Chef cooked, healthy meals delivered to you.
Factor Meals (you can also read my review here!)
Save $80 off your first two weeks of FACTOR with code BLACKFRIDAY80 (Valid now – 11/28 at midnight)
Save $30 off your first week of FACTOR with code CYBERMONDAY30 (Valid 11/29-12/2 at midnight)
Daily Harvest
Another one of my gluten free favorite meal delivery services is Daily Harvest. They have branched out from just smoothies and now carry plant based bowls, flatbreads, ice creams, lattes, and more! I eat a Daily Harvest meal or treat several times each week. They are convenient, healthy, filling and delicious. You can get $25 off with code PEACEOFGFCAKE.
Snap Kitchen
Snap Kitchen is a local favorite of mine, and now they do shipping! All, yes I repeat, ALL of their meals are gluten free.
You've got a lot on your plate. Let Snap Kitchen do the cooking for you this holiday season. Take 25% off your first order with code: SNAP2020BF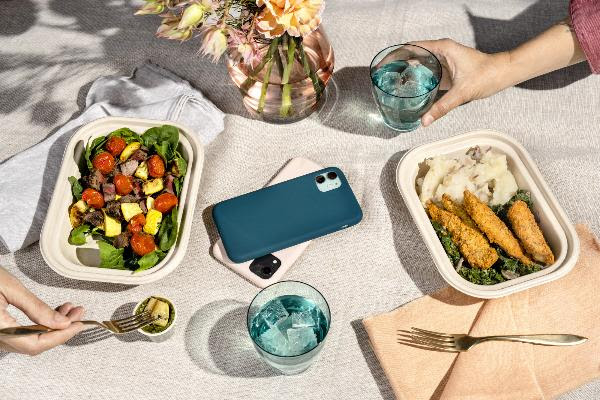 Shipt
Not a meal delivery service, but Shipt is having a major sale off of their membership for groceries delivered to your door!
Gluten free snacks and pantry staples.
This gift guide would not be complete without some great gluten free products! Either for yourself or gifting a gluten free foodie, here are a few of my favorite deals for this holiday season:
Primal Kitchen
Primal Kitchen is having $10 off your purchase of $50 for Black Friday. If you are looking for dressings, sauces, and spreads that are made with real, clean ingredients, Primal Kitchen is my go-to brand. They also now have some delicious pre-made frozen meals that are all Whole 30 approved.
HU Chocolate
Have you tried HU?! If not, now is the time!
Get 20% off sitewide for Black Friday with coupon code "BLACKFRIDAY"!
JOI Nut Milk Base
Save money and make your own nut milk with JOI nut milk bases! All you do is add water, blend, and you have milk for the rest of your week. You'll get 25% off using the code PEACEOFGFCAKE25.
Kind Snacks
Kion
I love all of Kion products, but my two favorites are their bars and their clean, toxin free coffee. Plus they are having some awesome Black Friday deals running through November 30th.
Spend over $100, get a $25 gift card
Spend over $150, get $50 gift card
Spend over $200, get $75 gift card
Spend over $250, get $100 gift card
Jo Jo's Chocolate
One of my new favorite finds this year! Jo Jo's Chocolate is a healthy chocolate bar that will make you forget your cravings for all those sugar filled candies that leave you with a sugar crash. My favorite is the the Peanut Butter Delight. Here's what they have for their Black Friday/Cyber Monday sale:
20% off on $20+
30% off on $30+
40% off on $40+
Superfat Keto Cookies
I love Superfat's Keto Cookies. They are the perfect gluten free, low carb cookie, whether you are following a keto diet or not! They will be running several sales during Black Friday/Cyber Monday:
Thrive Market
Thrive Market is where I get all of my gluten free pantry staples, from baking mixes to crackers. For Black Friday, you can get an extra 30% off their already discounted products!
Vitamix
Not gluten free food, but my favorite kitchen gadget for smoothies, soups, and even baking is my Vitamix Blender! You can get up to $200 off on their blenders with their great cyber deals this weekend.
The Gift Guide for the Wellness Lover
Workout clothes have become a staple in this year's work from home fashion scene. I have added some of my personal favorite and functional workout pieces to this 2020 gift guide.
Outdoor Voices
Outdoor Voices is one of my favorite go-to workout and athleisure wear brands. They are doing an amazing pre-Black Friday sale with up to 50%! These super cute leggings are only $34!
Girlfriend Collective
An eco-friendly workout brand that makes extremely comfortable and durable workout clothes. I love their high rise compressive leggings! They are currently having 30% off site wide!
Colorfulkoala Women's High Waisted Yoga Pants 7/8 Length Leggings with Pockets
People like to compare this budget-friendly find to the Lululemon Align pants (another one of my favorites!). What I love about these, is that they are inexpensive, soft, and made in a range of colors.
Lululemon Align Pant
A bit pricier, but another one of my go-to yoga pants that I wear all year long! They are super soft and lightweight so they can easily be layered for the winter.
Supplements
I am always on the hunt for the latest and greatest supplements. This year is a great year to gift the gift of health!
Nuzest
If you follow me on peaceofgfcake.com or on my Instagram, you know I LOVE Nuzest and use it not only in smoothies, but many of my baked goods! This Black Friday, they will be doing 30% off all of their products — so stock up! Check out a few of my creations below using Nuzest:
Mindbodygreen Products
Mindbodygreen is running an amazing Black Friday/Cyber Monday on all of their subscription plans! Get 40% off all subscription plans. From grassfed collagen to probiotics, mindbodygreen has a wide range of high-quality supplements.
Four Sigmatic
This has to be one of the best sales I have seen yet! If you have not heard of Four Sigmatic, they use the health enhancing powers of functional mushrooms to their delicious lattes, proteins, and coffees. I use a wide range of their products, like their Cacao Mix with Reishi to relax before bed and their coffee with Lion's Maine for a jitter-free, focus-enhancing start to my day. Along with up to 50% off, they are giving you an extra 10% off with my code PEACEOFGFCAKE.
Ritual Vitamins
This multivitamin has been in my daily routine for the past year, and I absolutely love it! Plus it has a minty taste to it, so unlike other multivitamins, you don't get that nasty aftertaste. Their line now includes not only products for women (18+, 50+, and prenatal) but also men and children! Now the whole family can stay healthy with Ritual. Use code PEACEOFGFCAKE and receive $10 off your first three months. Or receive for their Black Friday special, receive 40% off your first month!
Vital Proteins
Another wellness junkie's staple products are Vital Protein Collagen Peptides. I love the original unflavored peptides as well as their creamers and lattes. Subscribe to their email list and you can save 35%!
Self-care gifts
A wellness lover's gift guide would not be complete without some gift ideas to enhance self-care. Make an at-home spa day with some of these great products:
Mani.Me
If you follow me on Instagram, you have probably seen my favorite way to get a manicure at home with Mani.Me. These stick-on gels are custom fit to your nailbed with 3-D technology. From solids to cute nail art, you will find the perfect manicure with Mani.Me! You can get $5 off your first pair by using code PEACEOFGFCAKE.
Face Sheet Masks
I have been incorporating different sheet masks into my self-care routine each week and it has been a gamechanger for my skin! Check out this hydrating gel sheet mask at Sephora.
Journals
Last but not least, a beautiful notebook for writing notes, journaling or doodling is the perfect way to take some time for yourself at then end of the day. A journal is the perfect gift for anyone on your list!
Beautycounter
I absolutely LOVE Beautycounter products. From makeup to skincare, all of their products are made with clean ingredients! Get 15% off sitewide.
I hope this gift guide saved you some time (and money!) so that holiday shopping is a "Peace of Gluten Free Cake!"
* Disclaimer: this post contains affiliate links. This means I may earn a commission should you choose to sign up for a program or make a purchase using my link. It's okay – I love all of these companies anyways, and you will too!